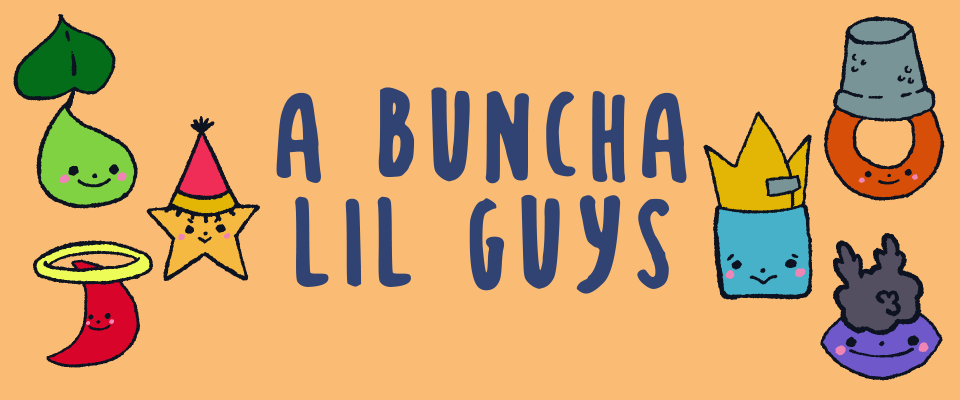 A Buncha Lil Guys
You're just A BUNCHA LIL GUYS (or BUDS, PALS, GALS, DUDES, etc.). Skulk, scavenge, and make it in a world that's way too big for you. It's a hard life, but you know you'll be able to carve out your own lil place in it with your crew at your side.
A Buncha Lil Guys is a hack of John Harper's Lasers & Feelings for 1 GM and 2-5 players, but you may play with more or fewer players if you like. Take on the role of tiny folk trying to survive in the nooks and crannies of our world.
From their perspective, pieces of furniture are megastructures and house cats are ferocious beasts. They're small enough to hop on lily pads or float down from a tree on a flower. Maybe they could even eat a cheese that's bigger than them and they do it in one bite and then their body is shaped like the cheese. All you need to play are some friends, a few six-sided dice, safety tools, an hour or two, and your imaginations.
There are several versions available: a colored version, a printer-friendly black and white version, and a plaintext version (no purchase or claim necessary).
If you can't afford the game at its listed price, please claim a free community copy below! If you do purchase the game, I'll add another free copy to the pool for others to claim. Thank you!
Purchase
In order to download this game you must purchase it at or above the minimum price of $5 USD. You will get access to the following files:
a buncha lil guys.pdf
500 kB
a buncha lil guys_bw.pdf
496 kB
Community Copies
Support this game at or above a special price point to receive something exclusive.
Community Copy
If you purchase A Buncha Lil Guys, your contribution will add a free copy of the game for anyone to claim. If you are unable to purchase A Buncha Lil Guys at its suggested price for any reason, please claim a free copy here.
Download demo